What are widgets?
If you have been in the blogosphere for some time now, you would hear of this term widget. Widgets are softwares that allow bloggers / webmasters to have fanciful applications on their blogs such as clocks and stuff.
Examples.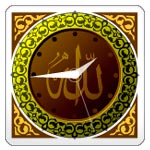 From http://al-habib.tripod.com/islamic-clock/
So yeah if you would like to have shortcuts to our website and see islamicevents flickering on your website / blog. Feel free to copy the codes from the link below.
http://islamicevents.sg/widgets/